Russia is a multi-national state with over 186 ethnic groups designated as nationalities; the populations of these groups vary enormously, from millions (e.g., Russians, Tatars) to under 10,000 (e.g., Samis, Kets). You will find there Slavic Ortodox culture, Tatars and Bashkirs with their Turkic muslim culture, Bhuddist and lamaistic Buryats and Kalmyks, shamanistic peoples of the Far North and Siberia, highlanders of the Northern Caucausus, Finno-Ugric peoples of the Russian North-West and Volga region — all of them contribute to diverse and rich culture of Russia.
Russian is the official state language, but the Constitution gives the individual republics the right to make their native language co-official next to Russian. Russian is the most geographically widespread language of Eurasia and the most widely spoken Slavic language. Russian Orthodox Church has been official religion and it plays a significant role in the spiritual life style of Russians. Islam is the religion practice for nearly 20% of Russians. Buddhism and Lamaism is traditional on the East of the country. Catholicism, Judaism, Protestantism also exists but not widely spread.
The largest country of the world, a country with great culture and history – Russia is a great cultural and scientific power . It is known for unique achievements in space , culture , music and art . The natural wealth of the country allows not only to spend a vacation but to learn a lot of new things . Here you can get emotions and touch the heritage of all mankind . The total area of the Russian territory is 17 mln sq km which is approximately as large as the Pluton planet surface.
Russia is a biggest in size country with multi-national residence, traditions and cuisine. Russian cuisine is a mixture of different national cuisines like Russian, Ukrainian, Siberian and Caucasian. Russian food is famous for its meat dishes especially for beef a la Stroganoff  and cutlets, different fish.  Soups have always played an important role in the Russian meal. Traditional Russian soups and stews include borsch (broth, beets, and tomatoes with various vegetables), ukha (soup made from 3 type/sorts of fish), shchi (cabbage soup), pokhlyobka (thick broth),  and okroshka (summer-time cold vegetable soup). 
 The most famous Siberian food is pelmeny — very tasty small pieces of meat (mix of elk , pork & beef meat)   wrapped in dough and boiled.  Another popular Russian cuisine is shashlik (Shish kebab) and it means the way of preparing marinated meat on a grill with a help of a skewer. Shashlyk originates from the Caucasian Mountain Tribesmen and now became very popular all over Russia. 
The common way of arriving to Russian main metropolitan cities is an air flight. One can get to Russia by regular flights and charters. Main tourist traffic goes through 3 international airports (Domodedovo, Vnukovo and Sheremetyevo) in Moscow and Pulkovo in Saint-Petersburg. All airports are according to the international standards. The biggest Russian air carriers are Aeroflot, S7, Transaero, Pulkovo airlines.
One can also arrive in Russia are by train, by ferry or by tourist bus (Subject to departure cities). Moscow has regular train connections with Minsk, Riga, Vilnius, Tallin, Helsinki, Prague, Berlin, Warsaw, Budapest, Kiev..
Road Transport / Buses are the most convenient mean of transportation for short trips from major cities to the nearby towns,. For long-distance trips it is advisable to use train services, provided by Russian Railways. Russian Railways is one of the biggest railway companies in the world with 1.2 million employees. Most Russian cities have well-developed and diverse systems of public transportation like buses, trolleybuses, train journeys and in some cities Metro also a part of public transport.
Metro is the fastest public transportation in the cities. Moscow Metro opened in 1935. It is the most popular kind of transport used by approximately 9 million passengers daily. Daily about 9915 metro trains run over 14 different lines. Total metro track about 314 km and 214 stations. The Moscow Metro is well known and very popular for it's outstanding design of stations. Metro also operate in Saint Petersburg. It opened in 1955 and it is considered the 12th busiest metro system in the world. Having 05 lines, 67 stations and over 2.5 million, passengers each day travel by this mode of transport in the city.There are other cities also having metro system like : Novosibirsk, Nizhny Novgorod, Samara , Yekaterinbourg, Kazan. Metro systems are under construction in Omsk, Krasnoyarsk, and Chelyabinsk.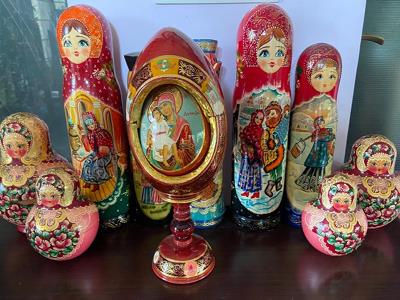 Matreshka Dolls
Matreshka dolls is Typical Russian souvenirs. Matreshka is a set of wooden hand-painted dolls of decreasing sizes placed one inside the other. The number of nested figures is usually five or more. The dolls have no hands except those that are painted. Traditionally the outer layer is a woman dressed in national dress Sarafan.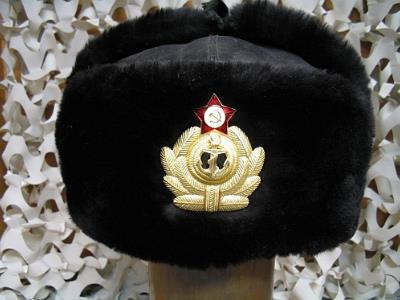 Ushanka (Russian Fur Cap)
Ushanka (Russian Fur Cap) can be tied at the chin to protect ears also. The word Ushanka derives from "ears" ("ushi") in Russian. Russians prefer ushankas made of expensive natural fur like fox, mink, nutria, mixed leather-and-fur hats.
Gzhel
Gzhel is a traditional Russian ceramic works. The festive hand-made  blue- patterned porcelain is extremely popular all over the world. Designers and potters use the traditional shapes and decor for more then 200 years . The range of items made is extremely diverse, but the most traditional items are teapots, jugs, mugs, butter-dishes, sugar-bowls, honey-pots, and sweetmeat stands.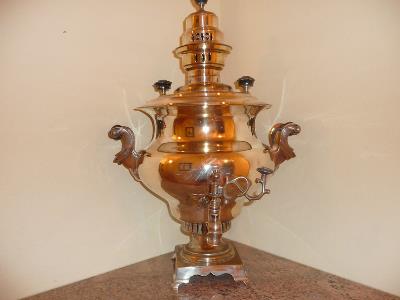 Samovar
Samovar is a metal container traditionally used to boil water. Usually used for making tea. Many samovars have an attachment on their tops to hold and heat a teapot filled with tea brew. It was an economical source of hot water in older times. Traditionally heated with charcoal, most nowadays samovars use electricity and heat water in a similar way as electric water brewers
Valenki
Valenki — Russian national winter felt boots, warm and comfortable for foot walks in frosty and snowy climate. Valenki can be easily worn in severe – 40C frost and below. It makes valenki irreplaceable footwear in towns, villages and countryside. In big cities valenki are not popular nowadays, however some cool-designed valenki with applique's work and embroidery made by fashion-designers are in favor as an expensive and exclusive souvenir.
Khokhloma
Khokhloma is one of the famous Russian craft, that emerged in the Nizhny Novgorod region in the 17th century. The wood-cutted objects are covered by a special base, smeared with aluminum powder and painted with heat-resistant dyes. Being covered with lacquer the patterns turn to vivid gold color. The Khokhloma painting is used to decorate pottery, furniture, various souvenirs, spoons and other household items; it is resistant to water and organic acids.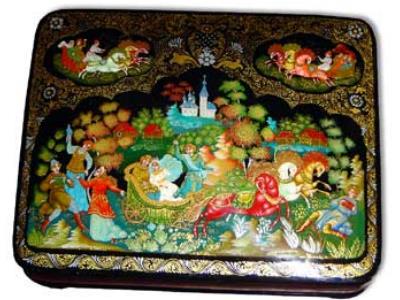 Palekh
Palekh — Was name of a village located near the Kostroma town (one points of the Golden Ring cvities). Palekh village became famous for its unique folk crafted miniatures (Named after the name of village). small boxes for jewelry, powder, papers, cigarette holders, etc). The decoration plots of the Palekh painting usually include heroic events of Russian and Soviet history, scenes from faily tales and popular legends as well as everyday scenes.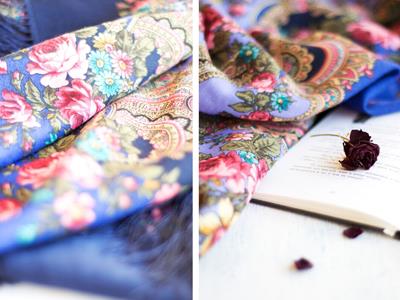 Russian Shawl
Russian Shawl (kerchief) was originated in Orenburg area on Urals about 250  years ago today it is one of most popular Russian souvenirs along with Matreshka, Ushanka. The shawls are made from a blend of silk and indigenous goat fiber, similar to cashmere or mohair. The first-class shawl must pass the following test — although it's quite large, it can be pulled through a wedding ring because the knitting is so fine. Shawls are very light, soft and warm. 
1. Russian tourist visa: 
Provided for fixed time period/dates and guest has to complete his/hers journey (entry and exit) in between the period given on visa. Russian visa is for only single entry and not extendable.
2. Registration:
According to the legislation in force, foreign nationals entering the territory of the Russian federation must register in the local registration office of the ministry of the interior at the point of destination within 72 hours of arrival or one day in case of stay at hotel. When you check in at a hotel or hostel, you need to provide your passport with visa & migration card/ slip so the hotel can register you with the local visa office.
3. Russian migration card:
Registration must be made no later than 72 hours from the arrival of the foreign citizen to the place of destination. The foreign citizen cannot register on its own, as it is the responsibility of the Russian host party. In no case is it mandatory for the foreign citizen to be present during registration.
Upon entering Russia, you will be issued with a migration card/ slip by immigration. There are two parts of migration card — arrival & departure. Immigration officer will hold arrival portion and departure portion will be handover to passenger. Please keep safely your migration card during the period of your stay in Russia. On the base of this migration card hotel will, register you. During your return journey, it is required for immigration and you need to submit it to the border control officer while passing departure passport control procedure.
4. Electricity: 
Electricity throughout Russia is 220 volt/50 hz. The plug is the two-pin thin European standard. All hotel rooms are equipped with European socket (type c or f). Bring the necessary adaptor for electronic devises if needed.
5. Medical care: 
Remember to bring any medications you may need. Check with your health insurer before you depart to ascertain your coverage in the event of emergency. Many insurance providers offer specialized riders which can cover emergency evacuation. If you take any prescription medication, be sure to bring enough of it for the entire duration of your trip, as some medications are unavailable in Russia. It is also advisable to bring some usual over-the-counter medications with you. These medicines are usually sold in pharmacies, however the labels are in Russian and most store clerks do not speak English.
6. Time zone:
Time is GMT+ 3 in both cities: Moscow & St. Petersburg i.e. two and half hour behind indian standard time (IST).
7. Russian currency: 
All prices are generally quoted in Russian rubles. You may exchange currency at hotels, banks, and currency exchange kiosks. Traveler's checks are hard to cash. Credit cards are accepted in most places that work with foreign tourists. Some may turn down American express. Visa and MasterCard are known, hence — more widely honored. ATMS are widely available in major cities, but note: they do not have letters on the key pad, so if your pin includes letters, do remember them as digits!
Do not exchange currency in the streets if a native Russian offers to sell you rubles. Always carry some currency with you because many shops do not accept credit cards. Remember to change your rubles to dollars/euro before you leave Russia. Most exchange office outside Russia will not change rubles. Right now 01 USD = app. 64 rubles (01 fen.2020). Please don't bring old dollars / euros currency notes. Currency should be clean without any stamp, sign or any mark on it. Russian banks/ currency change kiosks will refuse to exchange those. It's better to bring new euro / usd currency notes. Don't bring travelers checks. It will be a hard to find places/ to cash them and it'll take you a lot of time.
8. Climate:
Most of country has a continental climate, with long cold winter and short summer. Please check this website for your reference: 
The mild summer (Jun–Sep) is peak travel. Winter (Dec–Mar) is snowy, with subzero temperatures.
9. Cloths: 
For summer: keep light jacket for morning & evening hours. For winter: keep with you worm cloths (like jacket/ coat/ warmer/ warm cap/ gloves/ inners/ /comfortable and warm shoes not sandals in winter & light jacket in summer) to protect yourself.
10. Tipping: 
Tipping is increasingly expected at restaurants. Tip 10-15% depending on service.
11. Punctuality: 
Please be punctual as per itinerary. In other case group may not see all required just because of few guest coming late everywhere. Follow your guides during tours and listen to your guide carefully to understand/ know about destination, culture, heritage, monuments/ museum's impotance, etc.
12. Taxi: 
Avoid taking unlicensed cabs, as these drivers generally wait for taking advantage of foreigners. Also, note that driving from (or to) airport is quite expensive. It is safer and cheaper to order airport and train station transfers in the travel agency where you book you are staying. You can also use online apps like –UBER TAXI.
13. Transport / coaches: 
Please keep your coaches clean. In the coaches, it is prohibited consumption of any kind of eatable including haldiram product/ soft drink/ hard drink except drinking water. Please keep garbage only at designated places. There are very heavy penalties for the same (up to USD 400 in case of vomiting). It is recommended to carry small medium size baggage to make your travel smooth and hassle-free — after returning from tank venue usually guest's shoes full of mud so request all guest to clean shoes before getting in coach. Otherwise, Coach Company will impose penalty for coach cleaning about 7000 – 12000 rubles per coach.
14. Non- smoking areas/ zones: 
From June 1, 2014, it is prohibited to smoke inside all bars, restaurants, hotels, trains, public area, airport & etc. and cigarettes will no longer be on display in shops or sold in kiosks.
15. Respect the metro: 
The incredible subway system in Moscow can truly be an inexpensive and convenient blessing. However, the metro can also be the set of a pickpocket of fight. Do not flash money in the metro. Keep your metro pass separate. Don't speak loudly or make a fool of yourself on the metro. It is considered rude in Russia.
16. Watch out for your documents: 
Always keep an official copy of your passport and visa. When going out, leave your original passport in a safe place also keep hotel key/card when you walk around the city on your own. Please note: there are certain places you need original passport like during visit of Ostankino TV Tower, tank ride and AK-47 shooting etc.
17. Behavior (the unwritten codes):
Boys should be aware that in Russia, men still pay the bill on dates; If you are wearing gloves, take them off when you shake hands; Know that most young people have studied English and can help you if you get in a bind; Be polite to the local people; Remove outerwear in restaurants, nightclubs, and museums.
18. Night clubs: a few tips:
Before a visit, study the event poster of the place. The musical menu of most clubs is very eclectic and changes depending on the day of the week. Face control in Russian clubs is strict and unpredictable. Anyone can be refused access without giving reasons. The best way to pass the face control is stylish and "expensive" appearance and calm and friendly communication with the security. However, it is better to prepare a couple of extra options. Sports shoes not permishable mostly.
Partygoers are sure that branded clothes almost guarantee entrance to a club. However, a stylish mix of non-branded garments may also be helpful – from time to time. Few barmen speak foreign languages. At clubs and at the concerts visitors are used to loudly express their emotions and to make friends with people they like. Simply let yourself feel the common joy. Public transport does not work from 1 a.m. to 5 a.m. if you leave a club at these hours you will definitely need a taxi to get home.
19. Please be respectful in a churches: 
Functional churches are open to everyone but as a visitor you should take care not to disturb any devotions or offend sensibilities. Women should cover their heads and bare shoulders when entering a church. In some monasteries and churches, it's also required for a woman to wear a skirt— wraps are usually available at the door. Men should remove their hats/cap in church and not wear shorts. Tourist can just enter it like any other working church and see inside, but guide will not do excursion inside, or any explanation, as people come to pray there. Bottom of Form.
20. Emergency numbers:
 101 — the fire brigade and rescue team
102 — police 103 — ambulance
112 — call for emergency services from a mobile phone (operators speaks russian and english)
8-800-220-0002 — hotlink for foreign tourists