Almaty, Kazakhstan's largest metropolis, is set in the foothills of the Trans-Ili Alatau mountains. It served as the country's capital until 1997 and remains Kazakhstan's trading and cultural hub. Landmarks include the Central State Museum, displaying thousands of historic Kazakh artifacts. In the center is Panfilov Park, home to the bright-yellow towers of Zenkov Cathedral, a tsarist-era Russian Orthodox church.
The leafy city of Almaty (Alma-Ata; Алматы), with a backdrop of the snowcapped Zailiysky Alatau, has always been among the more appealing Russian creations in Central Asia. Today Almaty's new rich have expensive suburban apartments, large SUVs, glitzy shopping malls, Western-style coffee lounges, expensive restaurants, dance-till-dawn nightclubs and new ski resorts to help them enjoy life to the full. Meanwhile, others from the city's outer districts and the countryside squeeze into packed buses and rickety marshrutkas around the Green Market (Zelyony Bazar) or Sayakhat bus station.
Almaty is Kazakhstan's main transport hub and a place many travellers pass through. Stay a few days and you'll find that it is a sophisticated place – one for enjoying green parks and excellent museums, shops and markets, and for eating, drinking and partying in Central Asia's best selection of restaurants, cafes, bars and clubs. And great mountain hiking and skiing are right on the doorstep.
Big Almaty Lake is natural alpine reservoir. It is located in the Trans-Ili Alatau Mountains, 15 km south from the center of Almaty in Kazakhstan. The lake is 2511 meters above sea level. Area: 112 ha Length: 1.6 km Mean depth: 25 m Big Almaty Lake is one of the most beautiful lakes we have ever seen. If it was located somewhere in Europe, it would definitely be one of the most visited natural attractions, especially considering the fact how easy it is to reach it. 
Big Almaty Lake will be one of the highlights of this vast and rich in spectacular natural wonders country. Big Almaty Lake is a natural reservoir perched high in the Ili Alatau mountains, more than 8,000 feet above sea level, backdropped by three peaks that rise above the canyon. The color varies depending on the time of the year, but expect the brightest and most beautiful turquoise during September and early October. 
The lake takes on a more milky blue hue during spring due to the melting snow. One of the things that make Big Almaty Lake unique is that it is forbidden to swim in the lake, as it is the main water source for the residents of Almaty. Pipes carry the water from the reservoir down the mountains to the city. There are several guards walking around to ensure that no one oversteps the boundaries and goes down to the lake's shore.
Kok Tobe is a mountain in Almaty, Kazakhstan's largest city. There is a popular recreation area on top of the mountain and it is popular among visitors and tourists to Almaty. The hill the mast stands on is the highest point of the city of Almaty at 1100 metres and the mast itself is 350 meters tall. The viewpoint from Kok-tobe is well worth a visit with panoramic views of the city in all directions.
A cable car ride is a really good way to the top of Kok-tobe Hill and see the view of surrounding mountains, the start of which is located close to the Hotel Kazakhstan. The cable car goes over some of the oldest parts of Almaty and it's interesting to see the old fruit growing gardens. In 2006, the mountain opened a recreational entertainment center, which was the start of Kok-Tobe Park. A Beatles Monument was installed in 2007. Instead of the two old cable cars, there are now 17 new cable cars. A new Ferris wheel was also installed to the park.
Ile-Alatau National Park is a national park in Kazakhstan. It was created in 1996 and covers about 200,000 ha. It is situated in the mountains south of Almaty between Gorge Turgen in the east and Chemolgan River in the west.
The National Park borders Almaty Nature Reserve, which is located around Peak Talgar. The landscape includes woodlands, alpine meadows, glaciers and lakes, including Big Almaty Lake. Remarkable trees include apricot, maple, and apple. A total of 300 species of birds and animals have been recorded from the Ile-Alatau National Park.
The park is home to snow leopards, Central Asian lynx, Tian Shan brown bears, Central Asian stone martens, Siberian ibexes, bearded vultures and golden eagles. Other notable bird species found in Ile-Alatau National Park include Himalayan snowcock, ibisbill, Eurasian scops owl, and Eurasian three-toed woodpecker. The park also protects specific species of deer whose antlers are believed to have medicinal properties.
The Ascension Cathedral, also known as Zenkov Cathedral, is a Russian Orthodox cathedral located in Panfilov Park in Almaty, Kazakhstan. Completed in 1907, the cathedral is made out of wood but without nails. Its height is 56 meters tall, and is claimed to be the second tallest wooden building in the world. The historical monument is one of the main sights of the city.
Particular feature of this wooden building is that it was erected according to a unique ancient technology, practically without any nails. This five-domed and three-aisled cathedral with a built-in bell tower has been included in the top 8 highest buildings of the world constructed entirely from wood. Famous and talented Russian artist and icon painter N.G.Khludov worked on the inner interior of the church. Paintings of dozens of saints adorned the inner walls of the cathedral.
Fretworks and metal-bound decorations made by the masters completed the beauty of this holy place. Gold-plated domes with crests shone on sun, and the church was noticed from afar. In 1910, the city was damaged by an earthquake AND almost all buildings in the surrounding went to ruin, but the Zenkov Cathedral survived because of its construction technology – "anti-seismic basket". In 1927, the government ordered to close the cathedral. Until 1994, the building of the Zenkov Cathedral in Almaty was used for non-religious purposes and served as a Central Museum of Kazakhstan for a long time.
In 1995 local authorities decided to return its religious importance and after restoration works, orthodox services began to be held in the cathedral. Since then and up to now, the cathedral is a sanctuary for hundreds of Christians and a wonderful city attraction for guests and residents.
The Central State Museum of Kazakhstan is the largest museum in Almaty, Kazakhstan, and one of the largest museums in Central Asia. When first established in 1931, the museum was located in the Almaty Cathedral. It moved to a modern facility in 1985 and is a landmark in Almaty. 
The museum houses the most significant collection of Kazakh historical, archaeological, and modern cultural and political artifacts.
The Almaty Television Tower, or simply Almaty Tower, is a 371.5-metre-high steel television tower built between 1975 and 1983 in Almaty, Kazakhstan. The tower is located on high slopes of Kok Tobe mountain south-east of downtown Almaty.
Unlike other similar TV towers, it is not a concrete, but a
steel tubular
structure. It is the tallest free-standing tubular steel structure in the world. The tower is 371.5 m tall; its 114 m metal aerial reaches 1000 meters above sea level. It has two observation decks at the height of 146 m and 252 m, which are accessible by two high-speed elevators. It is however not open to the public. 
The tower was built by the architects Terziev, Savchenko, Akimov and Ostroumov
Palace of the Republic is a concert hall building located in Almaty, Kazakhstan. It is intended for concerts, festivals and other cultural events. It was one of the premiere sites for the Eurasia film festival. Outside, with the fountains on the square in front of the Palace and the monument of the Kazakh poet Abai, Palace of the Republic is one of the main known attractions of Almaty from the Kunaev era.
The building is located at the cross road section of Prospekt Dostyk and Abai Avenue. It is considered as a monument based on an urban planning and architecture since January 26, 1982.
Central Park, also known as Gorky Park, is an urban park located in the Medeusky district of Almaty. It was founded in 1856, and was originally called The State Garden.
The park includes different tree types such as elm, oak, aspen, maple, pine, spruce, poplar, and birch; artificial water reservoirs, attractions such as a water park, Rodina cinema, sports complex, cultural venues, and public catering establishments. There are also children's attractions, which include a children's railway, an aqua park and other entertainment venues.
The Green Bazaar is the most popular of the city's markets and you can find here all sorts of local goodies and their world famous dry fruits.
Besides the typical fruits, vegetables, cheese, spices, or meat you can also buy here products typical for Central Asia, such as kumys (fermented dairy product made from mare's milk). In other parts of the bazaar, you can find clothes, furniture, and other random things but the food hall is the place you don't want to miss!
Also did you know that Almaty is the birthplace of modern apples? Even the former name of the city, Alma-Ata, means "Father of Apples" in the Kazakh language. So be sure to eat local apples when you visit Almaty, the best ones can be found within the Green Bazaar.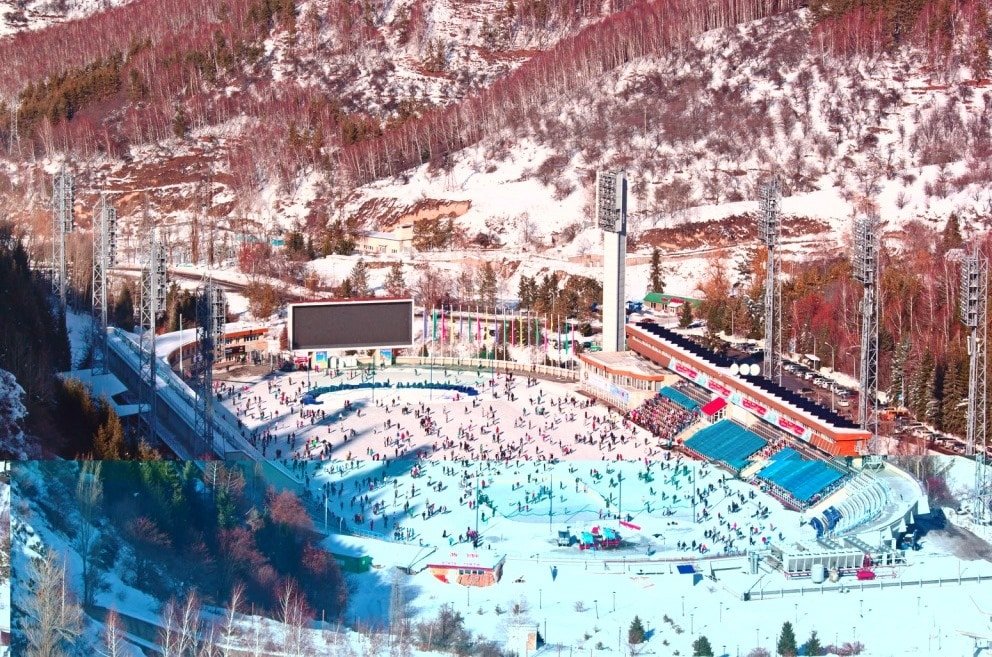 The Medeu, is an outdoor speed skating and bandy rink. It is located in a mountain valley on the south-eastern outskirts of Almaty, Kazakhstan. Medeu sits 1,691 metres above sea level. It consists of 10.5 thousand square meters of ice and utilizes a sophisticated freezing and watering system to ensure the quality of the ice. Consisting of 10,500 square meters (over 110,000 square feet) of ice, it was one of the top speed skating venues in the world from its opening in 1951 right up until the disintegration of the USSR. During that period, some 120 world records were set at Medeu. 
Additionally, the site served as the home rink for the Almaty bandy team Dynamo Alma-Ata, and also hosted several international bandy games. Bandy is basically hockey — in actual fact it predates hockey — played with a ball instead of a puck. In 1972, Medeu transitioned from natural ice to artificial ice, and its unique artificial ice freezing system is still in use to this day. The facility fell into disrepair after the fall of the Soviet Union, but has been revived in the past decade, being used as a centerpiece for (unsuccessful) bids by Almaty to host the Winter Olympics, and serving as center ice for bandy matches in both the 2011 Asian Winter Games and the 2012 Bandy World Championship.
Shymbulak is the largest ski resort in Central Asia with powdered slopes and one of the top Almaty tourist attractions all year round. On your journey to the top of Shymbulak resort area, you will find various accommodations, restaurants, cafés where you can have tea in a traditional yurt so high in the mountains and enjoy many other attractions like horse riding, a rope park, trampolines and OFCOURSE FRESH MOUNTAIN AIR!
Shymbulak, also known as Chimbulak is a ski resort near Almaty. The Shymbulak Ski Resort is located 25km outside Almaty city. It is located in the upper part of the Medeu Valley in the Zaiilisky Alatau mountain range. It is the largest ski resort in Central Asia. There are three ski lifts at the resort with the highest going to 3200 meters above sea level. There is also a Hotel located at the Resort, enabling those wishing to ski during the day, have a place to stay at night.
The resort is located in the upper part of the Medeu Valley in the Zaiilisky Alatau mountain range. It is popular for its mild climate, large quantity of sunny days and great amount of snow through the winter (from November till May). Almaty hosted the 2011 Asian Winter Games, bid for 2014 Winter Olympics, considered a bid for 2018 Winter Olympics, but decided to bid for 2022 Winter Olympics instead; Shymbulak was a venue for the Alpine Skiing events (both speed and technical), and would have been for the latter.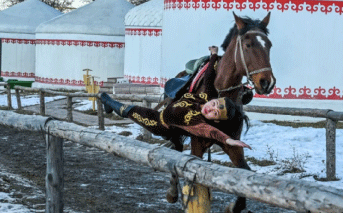 Relive the nomadic past of ethnic Kazakhs
If you seek to learn about the nomadic history of ethnic Kazakhs, make a beeline for The Huns Ethno village. The ancient mountainous village is famous for horseback riding, among other adventures. The place offers spectacular views of the mountains and is bustling with several traditional Soviet-looking hubs and Kazakh yurts. The locals will be more than happy to demonstrate the traditions and customs of the Kazakhs to you. This surely is a once in a lifetime time experience.
Enjoy the Nightlife in Almaty
Another thing that is undeniably attractive about Almaty is its incredibly wonderful nightlife. If you and your friends are planning to go for a fun trip and have the best time of their life, then there is no way you can get the best nightlife anywhere else than this spectacular country. Almaty's nightlife gives its tourists the best nights with its colourful clubs, bars, music, parties and beautiful people. Give it a shot and you will surely become a fan.
DoubleTree by Hilton, Almaty
Dosmukhamedov St 115, Almaty 050000, Kazakhstan
DoubleTree by Hilton Almaty hotel located about 17 km from international airport, 1.8 km from Kasteev State Museum of Arts , 2.3 from Kazakhstan Independence Monument, 17 km from Medeo, 24 km from Shymbulak.
Hotel featuring a terrace, 24-hour front desk & room service, free WiFi, Spa & wellness centre with an indoor pool, bar, sauna.  All rooms in the hotel are equipped with air conditioning, flat-screen TV with satellite channels, tea/coffee kettle, bath or shower, hairdryer, wardrobe, private bathroom with free toiletries.
A continental breakfast is available daily at hotel and also provides a business centre (guests can use the fax machine and photocopier or use the on-site ATM machine at the hotel. Hotel having about 1,165 sq. m. of flexible event space includes a column-free Grand Ballroom. Flexible conference rooms feature natural light and can accommodate up to 500 guests.
Dostyk Ave 52/2, Almaty 480051, Kazakhstan
Kazakhstan Hotel located about 1.6 km from city centre, 7 km from the two railway Stations of city and 5 km from the Atakent Exhibition Centre. Hotel is a unique historical monument of the megalopolis of Almaty. Kazakhstan Hotel is one of the few hotels in the world that has become an integral part of the city.
Hotel offering free Parking, stylish rooms with nice views, free Wi-Fi, 24-hour restaurant serving, satellite TV, air conditioning, soundproofed windows. Guests can enjoy regional and international food in the classical-style Kazakhstan restaurant. The 24-hour pastry corner and lobby bar are other highlights at the Hotel Kazakhstan. Hotel guests can enjoy panoramic city views & drinks at BarFly bar, located on 25th floor.
Novotel Almaty City Center
Dostyk Ave 104 A, Almaty 050000, Kazakhstan
The Novotel Almaty City Center hotel is located about 12 minutes of driving from Almaty railway station and in 30 minutes of driving from Almaty international airport. Hotel is located in the center of Almaty, in its cultural and business part. The nearest subway stations are Abai and Baikonur. Kok-Tobe Cable Road, The Palace of Republic, Arman Cinema are next to the hotel.
Novotel Almaty City Center is ideal business and leisure hotel. Hotel offers about 190 rooms and situated in the downtown of Almaty on Dostyk and Abai main avenues cross, which are famous for their business centers, offices, shops, restaurants, cafes and bars. Hotel provides accommodation with a restaurant, free private parking, fitness centre, bar, concierge service, children's playground, 24-hour front desk/ airport transfers/ room service, free WiFi, fitness center with pool, restaurant with terrace, bar, children corner and 7 meeting rooms.
Each hotel room are with desk, flat-screen TV, private bathroom, air conditioning, wardrobe, tea and coffee making facilities. Hotel guests can enjoy a continental breakfast.
Esentai Tower Business Center, Al-Farabi Avenue, Almaty 050040, Kazakhstan
Hotel Ritz-Carlton located 4.1 km from city center. Shymbulak Ski Resort is a 30-minute drive away, and Almaty International Airport is 15 km from the hotel.
Hotel Ritz-Carlton, Almaty offers a luxury hotel experience that stirs every sense. Alight from the sky elevator into the 30th floor lobby and receive a splendid welcome, accentuated by the awe-inspiring views that surround you.
Hotel offers spacious, air-conditioned rooms decorated in warm colours. Each elegant room includes flat-screen TV, Marble-tiled baths with a separate rainforest shower and dual sinks, bathrobes, Asprey bath amenities, lighted makeup mirror, hair dryer and scale, 24-hour in-room service, Wi-Fi , complimentary overnight shoeshine, morning newspaper, iPod station, In-room safe, coffee and tea machine with required accessories, etc.
Hotel also having the elegant on-site SEVEN Bar & Restaurant. Hotel Guests can enjoy drinks at the Sky Lobby and Lounge. Vista Restaurant serves international cuisine including Kazakh specialties for breakfast and lunch, etc. The hotel also offer recreation and relaxation facilities of Spa with 4 private rooms, including special salt and oriental treatment rooms, relaxation areas, steam rooms saunas, hammam.
Dostyk Ave 104 A, Almaty 050000, Kazakhstan
Seyfullin St 506 99, Almaty 050012, Kazakhstan
Rixos Almaty Hotel is a luxury 5-star hotel and located about 1 Km from city center and Nikolai Cathedral, 2 km from Almaty Opera House and 5 km by cable car from Köktöbe Mountain.
Hotel offers modern rooms with free Wi-Fi internet, spa with swimming pool, all rooms with air conditioning, work desk, balcony with nice views, bathrooms include a bath and shower. Hotel provides breakfast with international buffets.
The Lobby Bar & Lounge is open 24 hours. Guests can dine at the Brasserie Restaurant. The hotel spa includes gym, Turkish bath, indoor gardens sauna, massage rooms.
Khadzhimukan Street д. 47, Almaty 050000, Kazakhstan
Shera Inn Hotel located in Almaty, about 18 km from Almaty International Airport , 11 km from Medeo, 21 km from Shymbulak and Kok Tobe Mountain is about 3.8 km away.
Hotel is famous for its convenient location in the financial center of the city, 24-hour service, multilingual staff, excellent cuisine, spa and fitness centres, modern business services. Hotel is ideal not only for business traveller but also leisure clients.
Hotel having 188 elegantly decorated rooms with required services such as tea/coffee kettle, flat-screen TV with satellite channels, private bathroom, bath robes, slippers, free toiletries. Shera Inn Hotel boasts a terrace and views of the mountains. Guests can enjoy a meal at the restaurant.
Hotel offers five meeting rooms, ranging from 53 to 200 sq. m each, perfect for conferences and seminars. A complete package of equipment, including a projector and screen, sound system, flip charts, markers, notepads, pens and mineral water for guests, Wi-Fi Internet is already included in the rental of the hall. Coffee breaks and lunch menus, as well as any other menu of your choice, will be provided upon request.